About Hooker Electric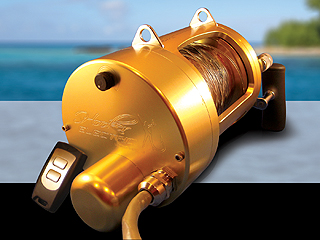 The reel retains all the original parts of the Shimano Tiagra, including the anti-reverse, drag, bearings, etc. The Hooker Electric module is constructed from 6061 aluminium rod. It weighs about 1.8kg more than the original reel. It performs at a speed of about 150 metres per minute with a weight and no fish at full speed. It has a full variable speed control from 0-150 metres per minute with no loss of power.
The 12VDC motor is capable of producing 1,500 Watts of power, which is over 2 horse power! The motor can also pull up to 60AMPS if needed, but normally runs at 40AMPS on full load. It has an RF remote with momentary button that operates the reel in full speed until you let off the button. The reel retains the handle for back-up or to fight a fish manually.
Fill out the form below if you're interested in a quote or you just want to find out more about one of the Hooker Electric Reels or products.
Remember to include address details if you are after a quote.