Hooker Camera Housing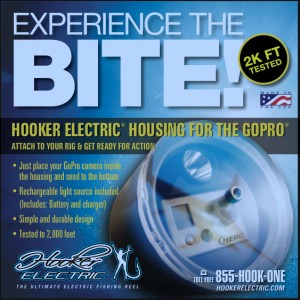 We discussed the idea of sending a Go Pro camera to the bottom long before actually doing it. About 3 years ago I successfully sent a camera down 1700 feet, then recovered it successfully. I used the original housing filled with mineral oil, then rigged it to an old kite spar. We were able to capture video, but we needed light. This time I wanted to take a more professional approach. We crafted a heavy duty housing from delrin and a lens made of 1-1/4 optical plexi-glass.
I installed a very powerful L.E.D. light with a rechargeable battery pack. This time the camera not only worked flawlessly, but tracked the fish without spinning. The camera housing gets rigged inline with the fishing gear. We typically set the rig 6 to 12 ft. away from the hooks to capture the entire catch.
So far we have captured several different species of deep water fish, including the swordfish. You can check out our latest videos on our youtube channel (www.youtube.com/hookerelectric) the footage is truly amazing. So get yours today from one of our dealers and start filming the deep.
Fill out the form below if you're interested in a quote or you just want to find out more about one of the Hooker Electric Reels or products.
Remember to include address details if you are after a quote.